Release Mb Actros Mp4 Sound-final update
Author:
tacsi68
| 22-02-2018, 11:03 |
Views:
2 203 |
Comments:
0
Description about « Release Mb Actros Mp4 Sound-final update »
---
Release Mb Actros Mp4 Sound-final update for Ets2 1.30.x game version
Note from the Author:
Today I will bring you all my reworked Mercedes Actros MP4 sound, this base sound is made by Kriechbaum
 and Gustav Rhan reworked it earlier and the soundmod sounded really good to me but need RL soundfiles, 
so I have examinate a lot of MB MP4 RL videos and ripped a lot of soundfiles of those videos.
I took my a long time to make it sound like in RL, but today I have permission by Kriechbaum and
 Vasily EVR to upload and share this soundmod.
Final update 21-02-18
- Tweaked volumes now more balance in sounds and no more hum sound on higher rpm
- added air horn
Credits to:
kriechbaum (base sound)
Vasily (tire, switch and signals sounds)
Modsbyrob, Stas556 (Turbo)
oxygen (retarder, ventill and airhorn)
Dowload link for the Drivetrain revision mod: - *Place the soundmod above the Drivetrain Revison mod.
Download
Please respect authors works and keep the original download link!
Screenshots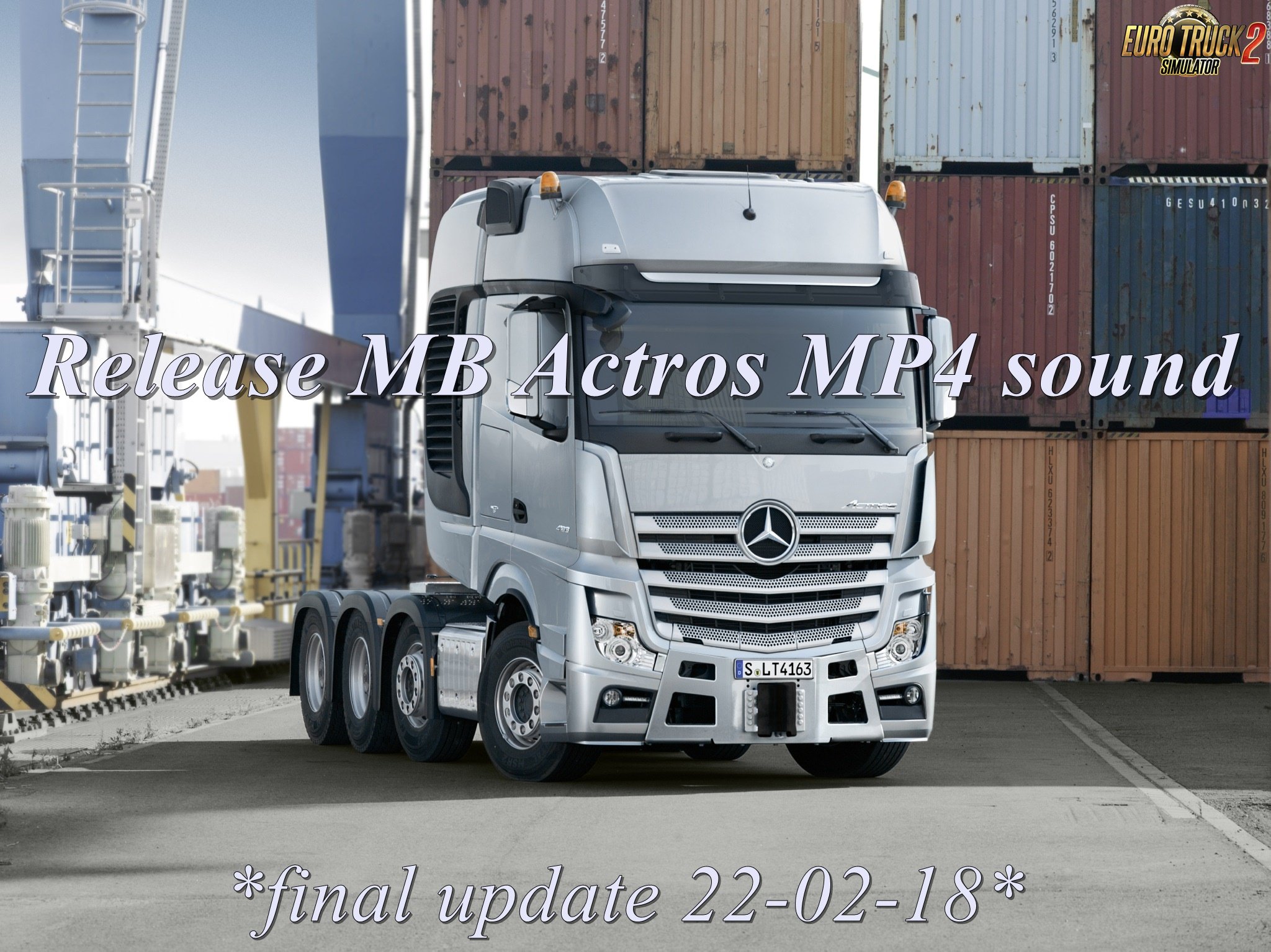 Simple steps to install ETS2 Mods:
- download the mod «
Release Mb Actros Mp4 Sound-final update
»
- use
WinRAR
or
7-zip
and unzip the archive;
- copy the file with the extension
.scs
in
My Documents/Euro Truck Simulator/mod
folder
- start the game, go to your profile, see the Mod manager and activate the mod.
Leave a comment
Did u tried this mod? We offer you to share your feedback from what you tested! Your review will be useful to viewers who are just about to download and to try this new mod.