Road to the Black Sea DLC Released
Author:
admin
| 5-12-2019, 16:11 |
Views:
4 290 |
Comments:
0



Great news from SCS Software, Road To The Black Sea DLC was released today 5h December 2019.


Road to the Black Seabrings three new European regions. Drivers will be able to expand their company and deliver to the countries of Romania, known for the forested region of Transylvania and the surrounding Carpathian Mountain range, Bulgaria with its diverse terrain and Black Sea coastline, and the Trakya region of Turkey which is the gateway to Europe's largest city, Istanbul.




With 20 new major cities and many more towns and rural villages to discover on your journey,

Road to the Black Sea

has something for everyone. If you prefer a more scenic journey, route your GPS to avoid the highway to travel past coastal views and forested countrysides, or marvel at Europe's largest city, Istanbul.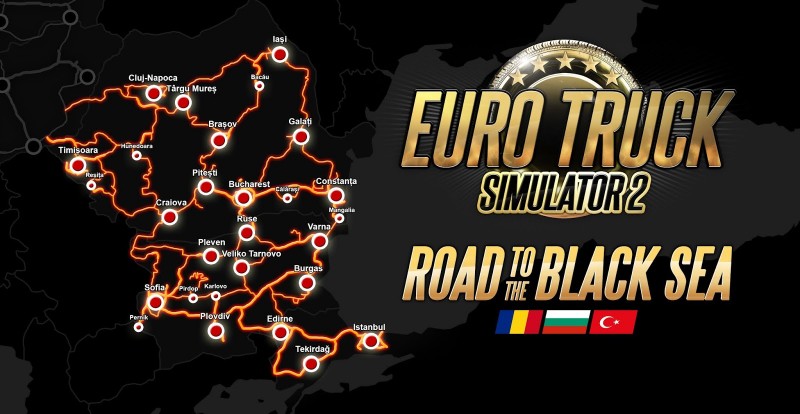 ---
Road to the Black Sea
 DLC 
map expansion will be released today at:
9am - California | 12pm - New York | 5pm -  London | 6pm -  Prague
8pm -  Istanbul | 1am - Shanghai (6/12) 
---
---
Features Road To The Black Sea DLC:
Over 10.000 kilometers of roads to drive on.
Romania, Bulgaria, and European part of Turkey to explore
Europe's largest city, Istanbul.
11 new local company docks and industries
20 new major cities and many smaller towns and settlements
Famous landmarks and recognizable places
Characteristic Balkan architecture
Brand new unique 3D-assets
Lush climate accordant vegetation
Local AI trains, trams, and traffic cars
Horse carts - for Bulgarian and Romanian countryside 
Border crossing - including features with various border controls 
River ferry over Danube (Dunaj) 
Black sea-region achievements to unlock
---
We have also released our official trailer for you to enjoy, this will give you a small insight of what this map expansion features: