AI Realistic lights V 2.6 for ETS2 1.35.XX
Description about « AI Realistic lights V 2.6 for ETS2 1.35.XX »
---
AI Realistic lights V 2.6 for ETS2 1.35.XX
Mod update
PROHIBITED UPLOAD THE WORK TO ANY SERVER WITHOUT PERMISSIONS.
Changes in Version 2.6:
- New texture for the traffic lights led's.
- Added LEDs, to traffic lights and beacons of road works.
- The traffic lights remain colorless, until their function makes them light, and adapt the required color.
- Adapted the new versions of pmg files.
- Changes in the values of the tr_light_flares.sii file
- Reduction of blur on roads and rear parts of other vehicles.
- Removed the blur of traffic signals that caused excessive glare around them.
- Compatible with all Dlc's.
Author: Rockeropasiempre
File weight: 3,3 Mb
Screenshots Mod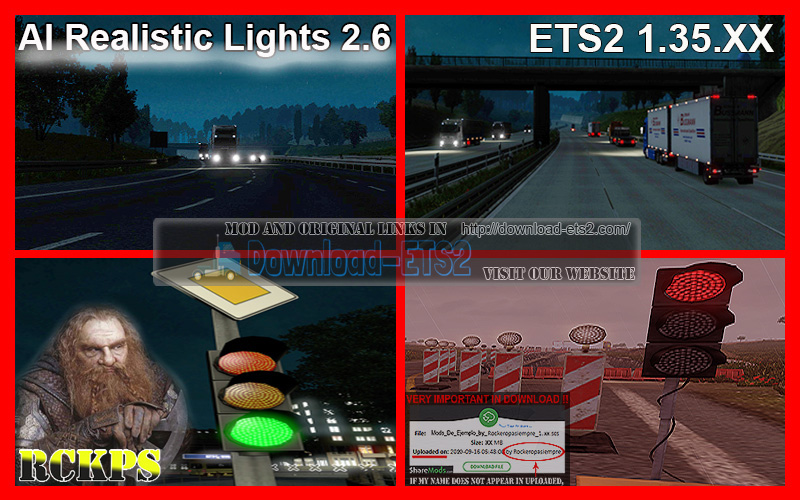 Simple steps to install ETS2 Mods:
- download the mod «
AI Realistic lights V 2.6 for ETS2 1.35.XX
»
- use
WinRAR
or
7-zip
and unzip the archive;
- copy the file with the extension
.scs
in
My Documents/Euro Truck Simulator/mod
folder
- start the game, go to your profile, see the Mod manager and activate the mod.
Add comment to this mod
Did u tried this mod? We offer you to share your feedback from what you tested! Your review will be useful to viewers who are just about to download and to try this new mod.