Traffic Flow Tuning v1.0 by iZ
Author:
tacsi68
| 4-01-2018, 12:45 |
Views:
1 634 |
Comments:
0
Description about « Traffic Flow Tuning v1.0 by iZ »
---
Traffic Flow Tuning v1.0 by iZ for Ets2 1.30.x game version
Note from the Author:
In general, this Mod complicates the traffic. When g_traffic bigger then 3.
So much happens around, that you can not describe everything 
*Don't lose vigilance!

Difference between versions:
"Traffic_Flow_Tuning_by_iZ_90Limit.scs" - very low stress level and speedLimit up to 90.
"Traffic_Flow_Tuning_by_iZ_HA_80Limit.scs" - simply more stress level. SpeedLimit - no change.
"Traffic_Flow_Tuning_by_iZ_HS_90Limit.scs" - simply more stress level and speedLimit up to 90.

On road You see:
- "Approximation" to a uniform distribution in the lines of one Dir. 
It depends on your speed, lines, etc. and wind direction
Often there is no one in front of you, and behind you is a kilometer Tail. 
- traffic is less at night and for lunch time;
- around 9:00 and around 21:00 more buses and trucks;
- a lot of privat cars in the period 17:00 - 20:00;
- trashcar, firecars and etc. in city 23:00 - 7:00;
- harvester and tractor - sometimes here, sometimes elsewhere;
- at traffic lights to the stop-line don't reach. Easier meneuring for trucks+trailer and buses;
- in general at the crossroads polite, but you need to be careful;
- often maneuver;
- after maneuver, don't brakeOneTime;
- trucks tend to right lane. But not all 
- sports cars occasionally demonstrate their abilities on very highSpeed;
- frequent stresses. "When the bug becomes a Smile". 
Unfortunately the game does not know, how to show, how a ton of iron breaks through the road fence at a speed of 300 km/h .

Imagine ;
- improvements rail drive train and speedlimits Thanks to Piva;
- escort speed up to 80km/h;
- actively signal not only to you. And to everyone around them;
- sometimes there are "inadequate" driver;
- sometimes someone feeling bad on the road and stopped car;
- yellow traffic light added some sec. But not to all.

I will be glad to read your impressions!

Complementary mods and my recomendation:
- Parking Bus 
- Jazzycat Packs
- AI Traffic Pack (TDU2)
- Asphalt 8 Traffic Pack Final (Sports cars)
- AI Torque By Momo
- Arayas Police On [ETS2 1.30.xx]
- Momo's Physics 6.x series
You can share this on other sites but KEEP ORIGINAL DOWNLOAD LINK AND CREDITS! 
DO NOT REUPLOAD TO OTHER FILE SHARING SITES! For personal use is free.
Screenshots Mod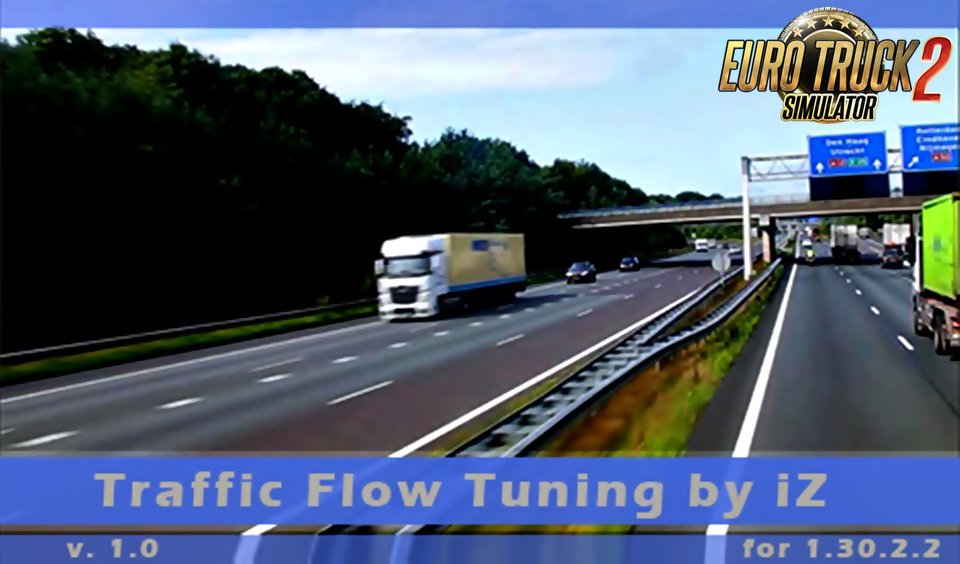 Simple steps to install ETS2 Mods:
- download the mod «
Traffic Flow Tuning v1.0 by iZ
»
- use
WinRAR
or
7-zip
and unzip the archive;
- copy the file with the extension
.scs
in
My Documents/Euro Truck Simulator/mod
folder
- start the game, go to your profile, see the Mod manager and activate the mod.
Add comment to this mod
Did u tried this mod? We offer you to share your feedback from what you tested! Your review will be useful to viewers who are just about to download and to try this new mod.