Mercedes Sprinter 313 By Thalken
Author:
Thalken
| 4-07-2015, 20:42 |
Views:
8 527 |
Comments:
0
Description about « Mercedes Sprinter 313 By Thalken »
---
Mod work on 1.18.x
– Compatible with Original & TSM maps + DLC East & North.
– This mod has changed skin and logo of Mercedes Sprinter for suitable with real life.
– In my video demo,i use 3 mods of myself create and TSM 6.0. When video near ending you can saw traffic very complex and them not let me go crossing easy,that is (Multiple Al Traffic v1.2 Mods) will release in 3 next week.
P/s: Please, show your respect by the way didn't upload again my mod,if you're want to share in another forum or blog then you're can copy original link in this topic.
Screenshots Mod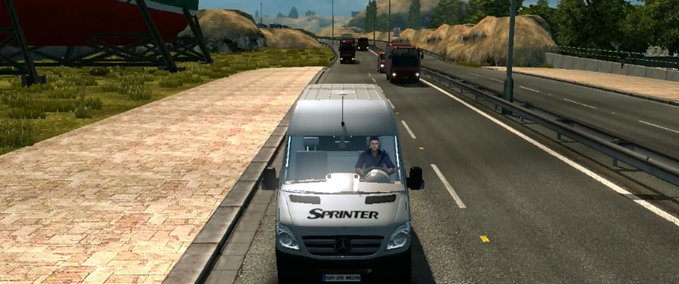 Simple steps to install ETS2 Mods:
- download the mod «
Mercedes Sprinter 313 By Thalken
»
- use
WinRAR
or
7-zip
and unzip the archive;
- copy the file with the extension
.scs
in
My Documents/Euro Truck Simulator/mod
folder
- start the game, go to your profile, see the Mod manager and activate the mod.
Add comment to this mod
Did u tried this mod? We offer you to share your feedback from what you tested! Your review will be useful to viewers who are just about to download and to try this new mod.