Volvo D13K engine sound v3.0 (1.37.x)
Author:
tacsi68
| 1-06-2020, 13:56 |
Views:
877 |
Comments:
0
Description about « Volvo D13K engine sound v3.0 (1.37.x) »
---
Download mod Volvo D13K engine sound v3.0 (1.37.x) for Euro Truck Simulator 2 game 
This sound mod is based on the previous version, it uses my own recordings. 
Recorded each range of 100rpm's precision in .wav stereo format 24 bits 96khz.
I of course in this version of the mod use my raw files. The quality is better.
I've recorded the fan sound as well these last days. It works on the SCS and Eugene Volvo.
I've made two variants : one with the fan sound and a second one without the fan.
Choose the one you prefer,  the fan will be audible when you start the truck (like in real life),  
and it will also be audible later when you drive. I've also made a separate mod that adds the
real Volvo air brakes sounds and air gear sounds.
Download Links:
---For a better sound experience, let the sounds sliders settings at 50% for the engine sound volume and exhausts.---
Tested on 1.37.x game version
Screenshots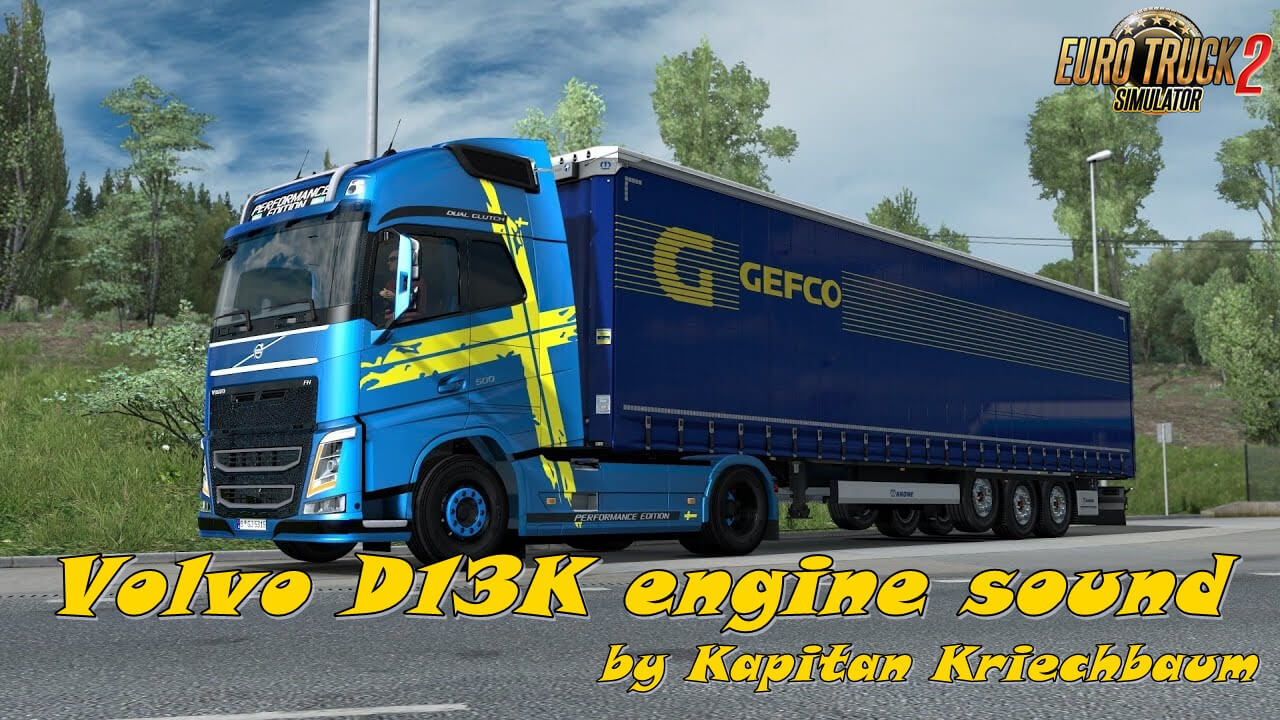 Simple steps to install ETS2 Mods:
- download the mod «
Volvo D13K engine sound v3.0 (1.37.x)
»
- use
WinRAR
or
7-zip
and unzip the archive;
- copy the file with the extension
.scs
in
My Documents/Euro Truck Simulator/mod
folder
- start the game, go to your profile, see the Mod manager and activate the mod.
Leave a comment
Did u tried this mod? We offer you to share your feedback from what you tested! Your review will be useful to viewers who are just about to download and to try this new mod.