Pack Powerful engines + gearboxes V.12.1 for ATS 1.35.XX
Description about « Pack Powerful engines + gearboxes V.12.1 for ATS 1.35.XX »
---
Pack Powerful engines + gearboxes V.12.1 for ATS 1.35.XX

Update mod.
PROHIBITED UPLOAD THE WORK TO ANY SERVER WITHOUT PERMISSIONS.
Description:

14 different engines, ranging from 305 hp, to 3.900 hp + 14 gearboxes.

The engines include 3 types of Sounds, depending on the engine chosen. Normal Sound, V8 Sound, and V8 Open Pipe Sound. Look at the store, in its corresponding icon, the type of sound used by the chosen engine.

The gearboxes incorporate models of 6, 10, 12, 13, 15, 18, 21 and 22 gears. Some of the models include retarder, double retarder, and also double reverse.

The mod works with all the original trucks in the game.

Changes in version 12.1:

- Added all engines and boxes, for all trucks.

With which trucks can I use this mod? THE BOXES AND ENGINES ARE ADAPTED FOR ALL ORIGINAL TRUCKS IN THE GAME.

- Kenworth T680
- Kenworth W900
- Peterbilt 389
- Peterbilt 579
- Volvo VNL

Author: Rockeropasiempre

File weight: 32.9 Mb

a greeting
Screenshots Mod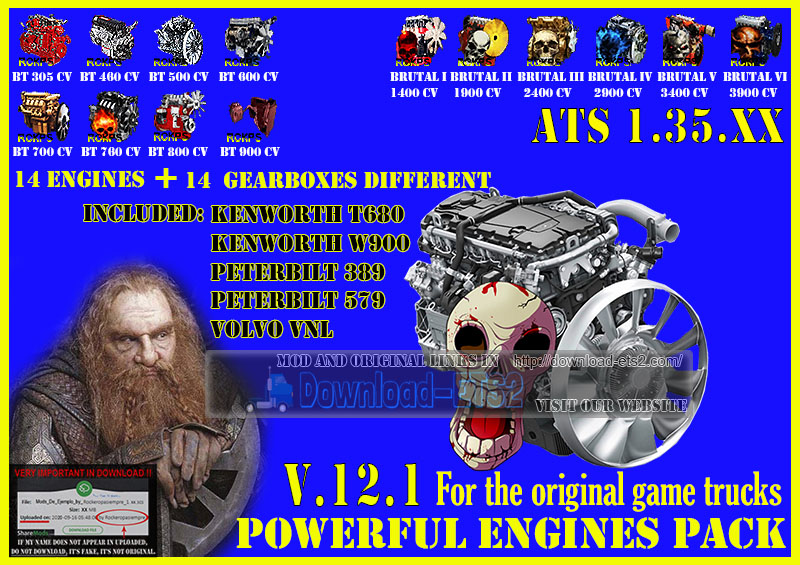 Simple steps to install ETS2 Mods:
- download the mod «
Pack Powerful engines + gearboxes V.12.1 for ATS 1.35.XX
»
- use
WinRAR
or
7-zip
and unzip the archive;
- copy the file with the extension
.scs
in
My Documents/Euro Truck Simulator/mod
folder
- start the game, go to your profile, see the Mod manager and activate the mod.
Add comment to this mod
Did u tried this mod? We offer you to share your feedback from what you tested! Your review will be useful to viewers who are just about to download and to try this new mod.