Trailer Mod Web Generator by viiper94
Author:
tacsi68
| 21-03-2018, 21:18 |
Views:
2 916 |
Comments:
0
Description about « Trailer Mod Web Generator by viiper94 »
---
Trailer Mod Web Generator for Ets2 and Ats 1.30.x game versions
This tool allows easy create default trailer mod. 
Features mod:
-Supports latest ETS2 and ATS versions
-Include all DLC trailers
-Supports double and triple trailers
-Paintable skins
-English and Russian languages
-Supports cargo weight
How to generate mod?
1. Choose a name for future mod (not required, otherwise generated from the chassis name).
2. Pick a chassis from dropdown list (required). You can use search.
3. Depending on the chosen chassis, you will be asked to additionally choose the cargo or the skin for the trailer.
4. Also, if you selected a colored skin, you can specify the color you want.
5. Click the "Next" button. The mod will be generated and you will see a button for its download.

P.S. If you have an issue, please contact me directly or write it in comment section below
https://forum.scssoft.com/viewtopic.php?f=34&t=252351
Screenshots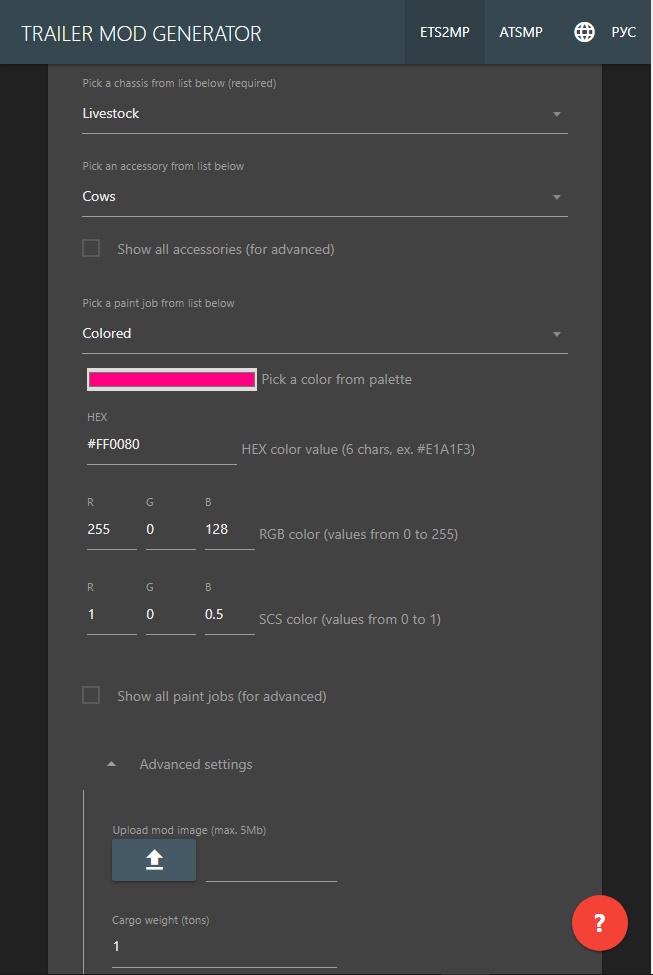 Simple steps to install ETS2 Mods:
- download the mod «
Trailer Mod Web Generator by viiper94
»
- use
WinRAR
or
7-zip
and unzip the archive;
- copy the file with the extension
.scs
in
My Documents/Euro Truck Simulator/mod
folder
- start the game, go to your profile, see the Mod manager and activate the mod.
Leave a comment
Did u tried this mod? We offer you to share your feedback from what you tested! Your review will be useful to viewers who are just about to download and to try this new mod.