JBK-Pack STORCK, 10 Cooler [1.27.x-1.28.x]
Author:
tacsi68
| 25-08-2017, 12:16 |
Views:
1 926 |
Comments:
0
Description about « JBK-Pack STORCK, 10 Cooler [1.27.x-1.28.x] »
---
JBK-Pack STORCK, 10 Cooler for Ets2 1.27.x-1.28.x game versions
Who does not remember the Storck giant or Toffifee and all the delicious things,
Which we probably already at our school time gladly
Features Trailer:
- Advanced Coupling
- Animated Brace
- Liftaxles
- Standalone,
- Customized cargo
- ModManager Ready
Trailer (s):
- MDmodding
Technical Changes:
- ZOSO -with Thank for his Work.
- Con la ringraziamento per le sue autorizzazioni
Skins:
- JoachimK
Tested in:
1.28.1.3 without any problems. Errors or Problems? Contact (ed) jbk-trans [dot] eu
Trailer:
- Fridge (MDModding, Zoso)
ATTENTION / ACHTUNG:
Sharing on other Forums/Sites only
with the Original-Downloadlink !
DO NOT HOST ON OTHER SITES/SERVERS !
DO NOT REUPLOAD !

ALL OUR MODS FROM US HANDMADE. NO OTHER MODS ARE USED / COPIED / CHANGED FOR OUR MODS.
WE STILL USING OUR SEARCHES AND PERMISSIONS FROM THE COMPANYS:
WE ARE AGAINST MOD-STEALING !!!
Screenshots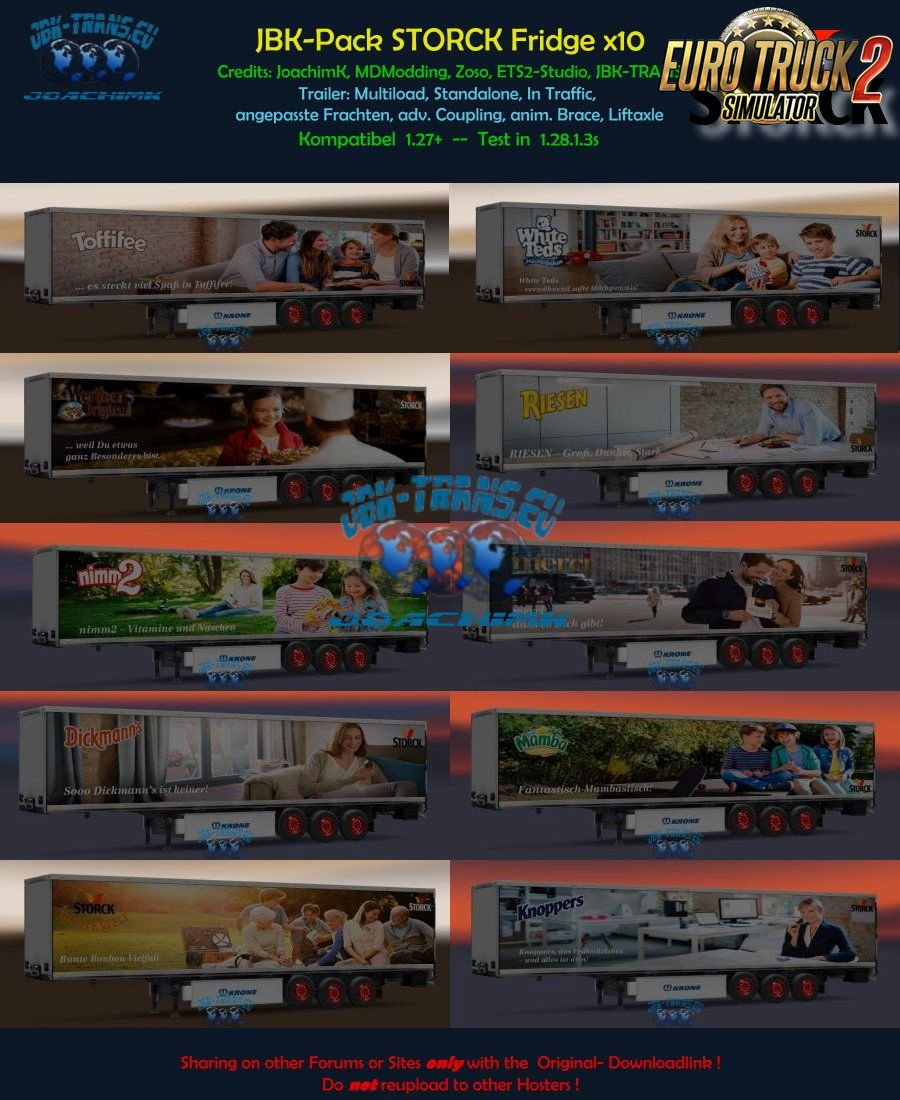 Simple steps to install ETS2 Mods:
- download the mod «
JBK-Pack STORCK, 10 Cooler [1.27.x-1.28.x]
»
- use
WinRAR
or
7-zip
and unzip the archive;
- copy the file with the extension
.scs
in
My Documents/Euro Truck Simulator/mod
folder
- start the game, go to your profile, see the Mod manager and activate the mod.
Leave a comment
Did u tried this mod? We offer you to share your feedback from what you tested! Your review will be useful to viewers who are just about to download and to try this new mod.