Volvo FH 2009 8×4 Ulfers v6 for Ets2
Author:
tacsi68
| 5-05-2017, 10:37 |
Views:
2 883 |
Comments:
0
Description about « Volvo FH 2009 8×4 Ulfers v6 for Ets2 »
---
Truck Volvo FH 2009 8×4 Ulfers for Ets2 1.27.x. game version
New Version 6.0
ready for ETS2 1.27.x.x
– with Advanced Trailer Coupling
DLC Cabin Accessories ready
Heavy Tuning
– Base by SCS
– Umbau by Roadhunter
– Skin by Roadhunter
– two chassi of 8×4 / one with liftaxle
– all chassis attacher little higher
– all chassis wheel cover all Smaller
– High Power Cargo Pack DLC compatible
– four variants of Convoi signs ( choose chassis or cabin )
– Sideskirt on 8×4 chassis
– neu 4x Decals vom 2012 FH16 +1x Ulferts ( Globetrotter, GlobetrotterXl, 
FH16 750, FH16 750 XL) ( V4.1 fixed some bug )
– Highpipe
– Transparent decals by Daltontune fixed by Roadhunter ( new Fixed )
– Alle Roofgrill additional attachment points
– alle Roofgrill additinoal with Daltontune Transparent decals deleted
Don´t upload this file on other hoster.
for Modder
PMG open….do what you want
Screenshots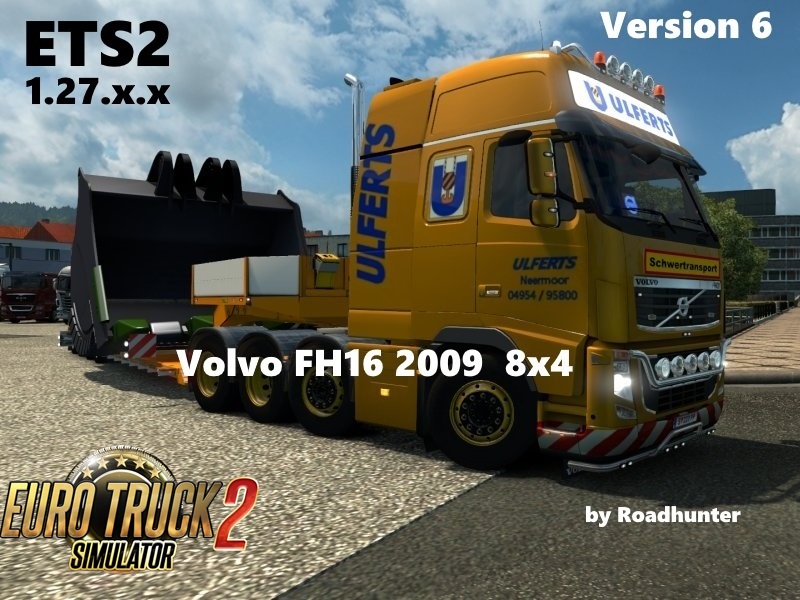 Simple steps to install ETS2 Mods:
- download the mod «
Volvo FH 2009 8×4 Ulfers v6 for Ets2
»
- use
WinRAR
or
7-zip
and unzip the archive;
- copy the file with the extension
.scs
in
My Documents/Euro Truck Simulator/mod
folder
- start the game, go to your profile, see the Mod manager and activate the mod.
Leave a comment
Did u tried this mod? We offer you to share your feedback from what you tested! Your review will be useful to viewers who are just about to download and to try this new mod.