Kraker Walkingfloor Pack v1.6.1 by Kast [1.28.x]
Author:
tacsi68
| 24-10-2017, 13:41 |
Views:
2 115 |
Comments:
0
Description about « Kraker Walkingfloor Pack v1.6.1 by Kast [1.28.x] »
---
Kraker Walkingfloor Pack v1.6.1 for Ets2 1.28.x game version
Trailer is Kraker Walkingfloor with 3 types of trailers.
Standard, scandinavian type and with tail-lift.
+ B-train trailers.
Features:
-Standalone
-Advanced coupling
-Trailer lift axle
-Steer axle
-Company paintjob system
-Animated braces
-Ai Traffic
-LOD Models
- for 1.28.x game version
New Changes for v1.6.1
-cargo files reworked
-added length limit for doubles in Promods addon
-new addon (NTM dolly with longer arm) for other tandem trucks

Show/hide text
Changes for v1.6
-Reworked the 34m double trailer (first trailer have 4 axles)
-Tandem trailer def addon added
-NTM dolly empty addon added
-Some fixes and adjustments all over the place
Changes for v1.5
-Trailer CF Iso with Thermo King Refrigeration Unit added (all 3 type of trailers have it)
-Kraker cf iso added to the traffic
-some new skins for trailers and traffic (versowood, metsä, leemans, vapo, transitar, kuusakoski)
Changes for v1.4
-NTM Dolly added with lod and brace animation.
-34m double trailers added
-4 New skins for the double trailer added (custom_paint_job)
-added VBG hook for the trailer
-Added new signs for the trailers, 25m and 34m roadtrain
Changes for v1.3
-Animation for link trailer landing legs
-Added cargo def files for only scandinavia and promods countries
Changes for v1.2
-Reduced polys on the link trailers
-LOD models for link trailers
-Added more skins for the link trailers
-Link trailer wheels folder name changed
-Some fixes here and there
Changes for v1.1
-1.28 fixes
-B-double trailer folded/unfolded
-Double trailers
-Fixes
Changes for v1.0
-3 type of trailers
-steer axle for the scandinavian trailer
-animated braces
-LOD models
-AI traffic
-New Skins
-New Wheels
-bug fixes and improvements
Changes for v0.2
-Fixed shadows
Credits:
Trailer: Kast
New skins: Nordisch
Wheels: Bora
B-link trailer wheels: Abasstreppas
Shadow tweaks: Abasstreppas
SCS for everything
Screenshots Mod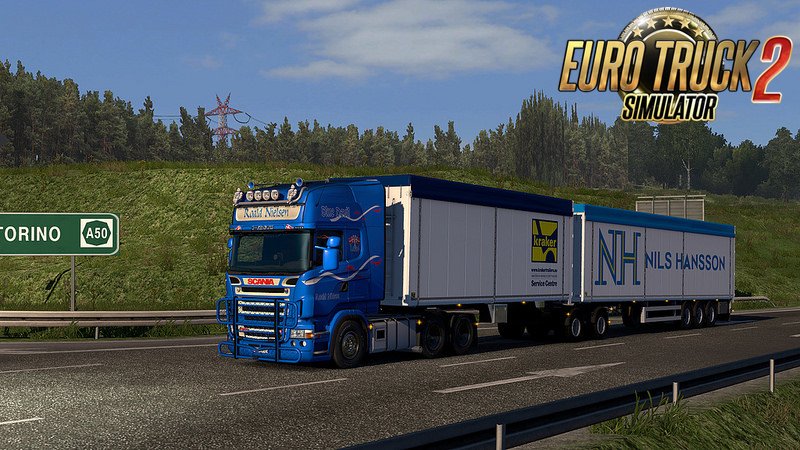 Simple steps to install ETS2 Mods:
- download the mod «
Kraker Walkingfloor Pack v1.6.1 by Kast [1.28.x]
»
- use
WinRAR
or
7-zip
and unzip the archive;
- copy the file with the extension
.scs
in
My Documents/Euro Truck Simulator/mod
folder
- start the game, go to your profile, see the Mod manager and activate the mod.
Add comment to this mod
Did u tried this mod? We offer you to share your feedback from what you tested! Your review will be useful to viewers who are just about to download and to try this new mod.