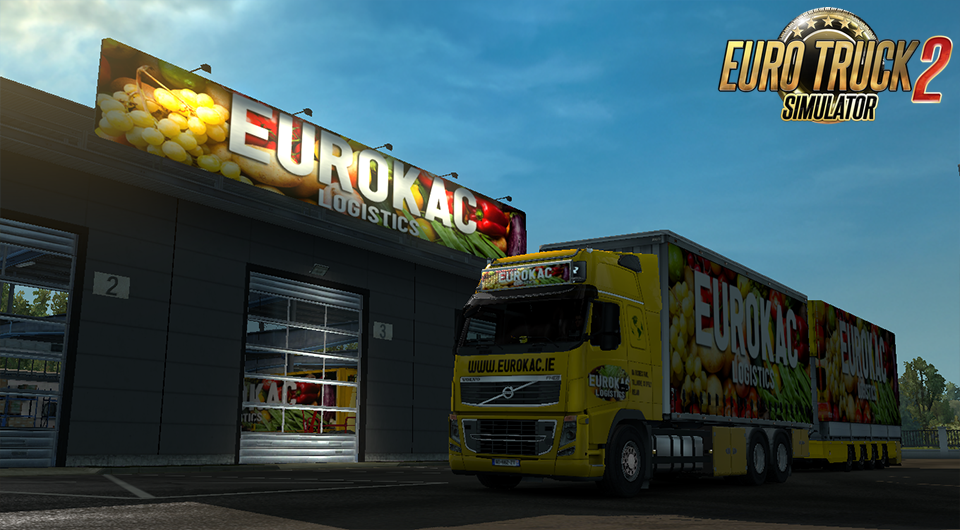 EuroKac Logistics Mega Pack v4.3 for Ets2 1.27.x game version
*Mod Doesn't Require the BDF Tandem Pack by Flemming V
New version 4.3
- Added Scania T tandem
- Added container tandem
- Added lot of Scania T paintjobs
- Added a EuroKac Mug (replaces SCS Mug)
- Added the Mercedes actros MP3 reworks tandem
- Fixed some textures (Renault magnum short sideskirt and others)
- Random Bug fixes such as missing parts (Exhausts)
- Created an EuroKac garage addon
- Added maxion wheels for some trailers
- Added Lightboxes for SCS Scanias and the SCS Volvos (FH16 2009 & FH16 2012)
- Added a Scania 4 series paintjob (RJL)
- Improved the ui
- Added more tandem trailers so it is easier to find them in the job market
- Changed the painted cistern textures
- Added an EuroKac MAN TGA Sunshield
- Added an EuroKac Food Cistern
- Added MAN TGA Paintjobs
- Added a Custom Roofgrill to the Volvo FH16 2012
PLEASE KEEP IN MIND THAT THIS MODIFICATION TOOK ME A FEW DAYS TO MAKE AND HAD TO FIX UP THE DEF FILES.
Visit my topic on the SCS forum : http://forum.scssoft.com/viewtopic.php?f=37&t=231905&p=718518#p718518
DO NOT REUPLOAD, KEEP ORIGINAL SHAREMODS DOWNLOAD LINK.
IF YOU DON'T LIKE IT THEN YOU DON'T HAVE TO USE IT.
- Download the mod;
- Extract it with Winrar or Winzip;
- Copy files with extension
.scs
file(s) into your My Documents/Euro Truck Simulator 2/mod folder;
- Run game ~> Edit profile ~> Enable mod.
Installation:

Copy the files from the archive into the folder My Documents \ Euro Truck Simulator 2 \ mod \