Eastern Express: road reduction v2
Description about Eastern Express: road reduction v2
---
Mod opens a blocked roads H15 and M05 (in v.2) in the Donetsk region.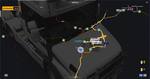 The border of the region is equipped with special equipment, structures, extras. signs and lighting.
Version 2: added special vehicles and helicopters, road pavement and fencing are recycled, running AI traffic.

It is planned to open a section on the N20 highway and further in the Lugansk region.
For users of version 1.0
- replace the file in the mod folder.
Add comment to this mod
Did u tried this mod? We offer you to share your feedback from what you tested! Your review will be useful to viewers who are just about to download and to try this new mod.