Port of Murmansk v2.0 for EE 10.9 (2 variants)
Description about Port of Murmansk v2.0 for EE 10.9 (2 variants)
---
Returned port in Murmansk.
Ferries to St. Petersburg, the Caucasus port and Europe.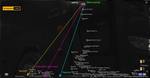 There are 2 variants in the archive:
Ferry_Murmansk_single.scs - for single connection (without other ferry);
Ferry_Murmansk_with_train.scs - to work with the railway Tambov - Ulan-Ude.
When connecting with the railway Tambov - Ulan-Ude ferry from Murmansk connect higher!
Version 2.0:
- arrival / sending to / from the hold of the ship;
- added ferries from Murmansk to:
- Roscoff (France);
- Newcastle-upon-Tyne (Great Britain);
- Palermo (Italy)
=======================================
Train Tambov - Ulan-Ude.
Add comment to this mod
Did u tried this mod? We offer you to share your feedback from what you tested! Your review will be useful to viewers who are just about to download and to try this new mod.